Published
Strategic Challenge or Economic Benefit? Interpreting China's FDI Flows
By: Stephen Ranger
Subjects: Far-East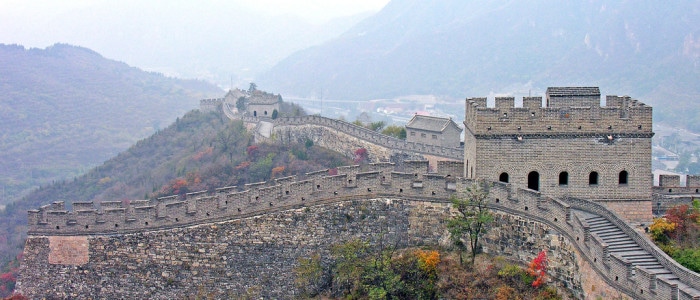 Foreign Direct Investment (FDI) and national security are often adversarial to one another. This is particularly the case with outward FDI from China targeting strategic infrastructure in various countries around the world. Such FDI has increased greatly in recent years not just to lesser developed economies but to developed nations as well. What often draws attention to Chinese FDI is that it tends to be predominantly merger and acquisitions rather than traditional greenfield investments. Although FDI from China has been more welcomed in recipient countries over investment from other nations, concerns arise in political circles when it targets sensitive sectors.
Among the outflows of FDI from China into such sectors, investments specifically focused on seaports has become a noticeable development over the last ten years. This investment has been globally widespread and has also included Europe following the 2009 takeover of two piers at the Piraeus container terminal in Greece. As identified by a recent Financial Times investigation, two-thirds of the top fifty largest ports in the world have received some form of investment by Chinese firms. It is no surprise then that the title of the article is "How China Rules the Waves."
Alongside these investment outflows, China's navy has undergone rapid growth and modernization. Its operations have expanded in scope and it is not uncommon for naval vessels to visit ports that have received Chinese FDI. However, this can create strategic and national security concerns for the host country. The case of Sri Lanka is an interesting example of such a dilemma. In 2015, Colombo faced a difficult challenge after Beijing insisted on its submarines paying a visit following its investment in the port of Hambantota. On the one hand the Sri Lankan government did not want to jeopardize crucial economic ties with China, on the other it wanted to avoid being viewed by its larger neighbour India as allying itself with a strategic rival. In the end, after much pressure, Sri Lanka permitted the Chinese navy to pay a visit.
Such situations provoke questions about whether FDI into sensitive infrastructure contributes to international trade or acts as a potential threat to national security or strategic interests. Furthermore, debate emerges on whether Chinese FDI into overseas ports is part of a broader effort by Beijing to reshape the global order to its advantage as its power grows. With Europe looking to attract more FDI from China, such questions need to be carefully considered. From a broader strategic perspective, what should be interpreted about the flows of Chinese FDI into seaports around the world and to what extent does ownership of these ports on major shipping routes pose a challenge to the future of the maritime commons and the current international liberal order? In order to address these issues, two important questions need to be answered to develop a more accurate picture on the impact of FDI on national security.
1) Are Chinese FDI outflows in support of its military interests?
The issue of outward FDI from China is essentially a question of motivation. FDI from lesser developed countries does often create negative perceptions among politicians, the media, and even within academic circles. A notable example was the controversy over the efforts by the state-owned Dubai Ports World to take over six ports in the United States in 2006. This revelation stirred a heated debate in Congress and the media over the impact it would have on port security and terrorism. In the end, Dubai Ports World pulled out of the deal despite securing approval from the White House. For China, a key question on motivation is related to developments in its military strategy and whether it is supported by the flows of FDI.
China's military modernization has grown rapidly over the last decade. Currently, the People's Liberation Army Navy (PLAN) is the second largest in the world. However, despite its size the main focus for the PLAN remains the Western Pacific region. As the Pentagon has explained in its annual report to Congress on the Chinese military, much of Beijing's defence strategies have conceived of "island chains" or areas of sea in East Asia which must be secured from U.S. forces in the event of a conflict. In pursuit of such "anti-access/area denial" strategies, Beijing's naval modernization efforts have focused on anti-aircraft carrier systems such as anti-ship ballistic missiles as well as operating it naval vessels beyond its coastal areas. A further understanding of China's military interests can be diverged from its most recent Defence White Paper. Released in 2015, this brief review has talked about placing more emphasis on becoming a maritime power by moving away from it terms as "offshore waters defence" to a hybrid strategy of both "offshore waters defence" and "open seas protection."
At the same time, the PLAN has opened up its first overseas presence in Djibouti, a port that has in the past few years received Chinese FDI. Interestingly, it is also situated next door to an important U.S. military base. While this may appear to be an expansion of its military reach, the reality is that the base serves more as logistics hub for its participation in the multi-national anti-piracy missions in the Gulf of Aden. Whether or not this limited role would change in the future is still open to debate. However, using FDI as a pretext toward establishing overseas naval bases is not so simple. Many developing countries are sensitive about hosting foreign forces unless it boosts their own defence or enhances their strategic interests, which would require China to become involved in other nation's security issues. Given Beijing's non-interventionist stance this would unlikely materialize in the near future.
Instead it is more likely that China's overseas military presence will continue to be aimed at providing logistical support for non-traditional military operations. As noted in its white paper, China sees challenges emerging from hot-spots and localized conflicts. An example of such was the great difficulties Beijing encountered when seeking to help its citizens evacuate from Libya during the civil conflict in 2011. This indicates that FDI into ports overseas is likely to be more related to commercial interests. In some cases acquisitions of ports could be utilized to support military activities, but ones that are limited in scope and generally in support of the international community.
2) Is China dissatisfied with the international liberal order?
Beyond military interests, it is important to look at China's perceptions of the international liberal order and whether it will intend to act as a revisionist power. In this regard, when looking at the national security implications of China's FDI into overseas ports, one must ask whether it is part of broader effort to reshape the international liberal order which for the maritime commons is defined by the United Nations Convention on the Law of the Sea. Are there signs that Beijing is seeking to revise the current global order?
First, it is important to understand that these FDI flows have broadly followed Beijing's official economic policy. Under President Xi Jinping, China has looked to push ahead with its "21st century maritime silk road" project to bring together regions through enhanced shipping connections. Much of the FDI flows into ports would appear to be in support of this project. But other than enhancing trade links, it suggests little in the way of revising the current global order. So far, it is difficult to perceive of this as an effort to change the current international order by a rising power dissatisfied with the current rules. Rather this initiative appears to be actually more in support of the current international liberal order than creating an alternative.
In fact much of these concerns about China potentially reshaping the world reflect a feeling that the international liberal order is in decline, particularly with the election of Donald Trump. Yet some like Joseph S. Nye have contended that the U.S. international order is unlikely to experience a decline soon. While others further point out the complexities of China's position in the world, as noted by Evan A. Feigenbaum, it is a "disruptive power, not a revolutionary one." That is there are many different ways in which it interacts with the world and international institutions. Some will appear as disruptive, others more in support. In fact, Daniel Drezner has remarked that Beijing may even be the last liberal power in the event of U.S. retrenchment from the global stage under the Trump administration.
In respect of the maritime commons, it is important to bear in mind that even with the Hague Tribunal's ruling in 2016 that went against China over disputed islands in the South China Sea, Beijing did not respond by withdrawing from international institutions or seeking to revise the system. Rather it simply ignored the ruling. In 2017 it continues to abide by the Law of the Sea, although it may differ to a degree on its interpretations, particularly with Exclusive Economic Zones. In general, this highlights what Feigenbaum mentions of China as a "disruptive power, not a revolutionary one."
Second, it is important not to look at the flows of Chinese FDI into international ports in an isolated way. There are also a number of other FDI flows into infrastructure projects around the world, from rail lines to power stations which often link together. The ports happen to be just one aspect of this broader effort to enhance the connectivity of emerging markets that China intends to benefit from through increased trade. For example, investment in the port of Mombasa is linked to the $13.8 billion railway project to connect it with the capital Nairobi and other major cities in East Africa, a region that Beijing has long been interested in. In fact, from its beginnings, the so-called "maritime silk road" was part of the broader "One Belt, One Road" initiative to strengthen trade linkages across Eurasia by land, rail, and energy pipeline projects. And with slowing economic growth and an oversupply of building materials in China, the motivation for this project is taking on a new sense of urgency.
How should Europe respond to Chinese FDI inflows?
In Europe many opportunities exist for Chinese investment, particularly as Beijing seeks to expand transportation linkages as seen recently with the opening of new rail routes that link the industrial heartlands of eastern China to the major consumer cities of Europe. While concerns about job security, wages, and the transfer of technology often dominate debate on FDI, national security also plays a role. As seen with the Sri Lankan case, Beijing insisted on its naval vessels paying a visit which put Colombo in a difficult position. In the United Kingdom, Chinese investment into its nuclear industry has created new concerns in London about national security. Are such concerns justified? In what ways should Europe respond to Chinese FDI into sensitive sectors? In general, there is no definitive answer to this since each investment is different. However to address this question in a broader sense, two valid points need to be considered.
First, Chinese FDI into ports can have a positive impact, sometimes overturning poor performing operations to develop them into more competitive entities. As previously demonstrated, FDI from lesser developed countries to developed countries has often targeted companies or businesses that were on the brink of bankruptcy. In most cases they have been able to save industries that would have otherwise disappeared. The example of Greece is notable in this regard. In 2009, China Ocean Shipping Company (COSCO) took over two piers of the struggling container terminal at Piraeus. COSCO invested millions of Euros to upgrade the facilities and over the last few years has helped to enhance its operations. One way in which it has achieved success has been to focus on transhipment and thus turning Piraeus into a maritime hub. The numbers show this success. For transhipment container traffic in terms of twenty-foot equivalent unit, it increased from 29.928 in 2008 to 520,722 in 2013. It is also interesting to contrast the success of the Chinese invested piers with those at the same port that are still owned by the Greek government and are struggling to achieve success. It can be argued that one of the advantages COSCO had was its position as an outside operator during a time of great domestic political upheaval in Greece. In some cases, foreign companies can make changes or initiate reforms in ways that domestic entities would struggle to do.
Second, these concerns over national security are usually due to the lack of transparency on the part of the investing firm. Although Chinese FDI is commercially driven, it can be argued that it is often guided by the state or is in pursuit of targets set by the government such as the "One Belt, One Road" project. And with many state-owned enterprises involved, the issue of transparency is often questioned. While there is little that can be done about specific investment projects themselves, enhancing the norms of transparency can be an effective way to deal with this issue for the future. To this end, Europe can play a role internationally in promoting norms of transparency with investment. One area in which such efforts can be pursued is through Europe's role in the Chinese-initiated Asian Industrial Investment Bank (AIIB). When European countries joined the AIIB, there was concern about its implications. This was particularly the case in the United States who viewed the emergence of the AIIB as a challenge to the current international order and the Asia Development Bank. However, as mentioned before Europe can help play an important role in shaping the AIIB and the way in which it invests in countries in the region. By actively promoting the norms of transparency, it can be one way to help alleviate the recipient country's concerns about national security. Similarly this can work when future Chinese FDI flows into Europe.
Finally, it is important to note that although concerns about China reshaping the global order may be premature at best, significant maritime challenges remain. The South China Sea remains the scene for potential miscalculation that could lead to conflict. Significantly though, it is a part in which FDI plays little role. Instead, China's military strategy is focused on the construction of "islands" in the disputed Spratly Islands from which its forces can operate.
Fears over the threat of FDI to national security are important, but should not be overstated or exaggerated. Sometimes such fears over national security are used to support domestic interests or encourage protectionism. In the United States, despite the concerns over FDI targeting sensitive sectors, research on Chinese FDI has shown that current U.S. laws and regulations are sufficient to address such national security fears, for example the 2007 Foreign Investment and National Security Act. What is often overlooked are the positive benefits from encouraging FDI into areas that are struggling to perform or even on the verge of bankruptcy. With government oversight and enhanced transparency, fears over national security related to FDI can be properly addressed. This would then allow for discussions to focus more on the other difficult areas such as labour rights and job security.