In a recent LinkedIn post, my colleague Hosuk Lee-Makiyama asked why so many policymakers in Europe are concerned with digital sovereignty when the vast majority of value added in digital services is sourced at home (within the EU)?
He has a point. Fixation with digital sovereignty hides the fact that Europe benefits a lot from digital technologies invented abroad. Other arguments also support that claim.
For any country the vast majority of what's consumed is sourced at home. Most of the stuff that we produce is also consumed in our domestic economies. Trade is important, for sure. But imports and exports of value-added still represent a minor share in our GDP. That's also true for digital services.
Supporters of digital sovereignty worry about too much European value-added flowing into the US. That value-added needs to stay in the EU, according to them. Take data. Putting data on US cloud infrastructure creates lost opportunities for European businesses. "All that value-added is lost because we import so much from them [i.e., U.S.]", is what one often hears in Brussels seminar circles.
They have a point, too. But only a small one. The left-hand panel in the figure below shows indeed that for the group of European countries with the largest markets, the EU15, their foreign digital value-added sourced from the U.S. is increasing. This value-added is around 50 billion USD today. Moreover, this foreign share has been rising faster since 2005.
But a few remarks must be made here. One is that even though the EU15's foreign share from the US is rising, the EU share in US foreign digital value-added is rising too, as the left-hand panel shows. Indeed, US firms and consumers are also fond of European digital services, and it doesn't seem that they need less of our digital value-added anytime soon as their economy grows.
Second, on a per capita basis, both sides' foreign digital value-added sourced from each other is not too far off. The EU has a bigger market, and so it also sources larger volumes from abroad.
Interestingly, before 2006 the average US citizen consumed more digital value-added from the EU15 than the other way around. After that, this pattern flipped, and the EU started to demand much more digital services from the US. For economists, this can be explained by the strong comparative advantage the US enjoys in digital services.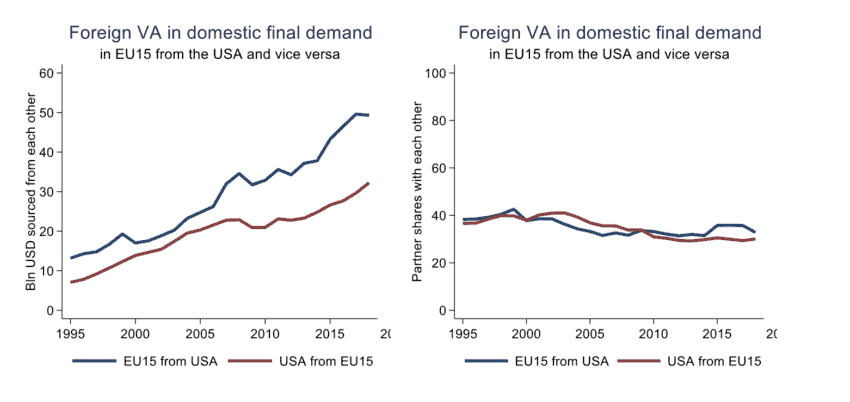 Source: author's computations using OECD TiVA.
And that relates to my third point. That comparative advantage in digital services is not doing so well for several EU15 countries, as previous ECIPE work showed. France, Italy, Austria, and Spain generally have a competitiveness problem as their digital services have been dragging since 2005.
So, even though most digital services indeed are sourced at home, if that isn't good enough one starts to get it from abroad. And that's simply what happened. And that's what we see in the value-added numbers.
But people in favour of digital sovereignty may have another problem with their concept, and that's related to the very word "sovereign". For a trade economist this sounds like being less dependent on foreign markets. Being more "independent" implies less reliant on others. In our context, that basically means a lower share of foreign value added coming from the US.
But that already has happened, as the right-hand panel illustrates. The EU15's bilateral share of digital services value-added from the US is somewhat declining. Intuitively that makes sense: digital markets become more global and as we become more dependent on others, we are not reliant on the US alone anymore.
That first begs the question whether we can truly become sovereign in a time when digital services are becoming more dependent on other countries than the US. But more importantly is whether digital sovereigntists assume that as a result the US will also become more independent from us?
The right-hand panel shows that relatively speaking the US is as much dependent on us and the world as the EU is. How sovereign is that going to be?