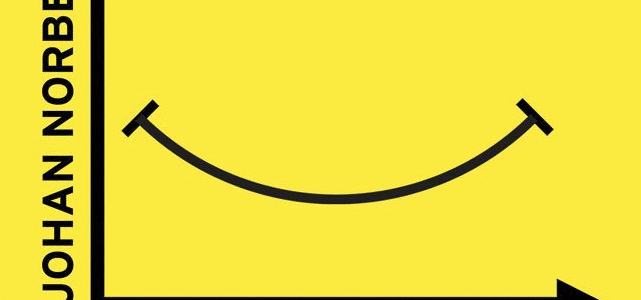 ECIPE: In the current age of misery there is this feeling that the world is getting darker and that the sky is about to fall down. You chronicle and detail a radically different view. What is the story of Progress?
Johan Norberg: We complain about everything, while we are sitting here, better fed, more literate, and richer than ever. You might not guess it by following the news, but by almost every indicator, this is a golden age of human development. Life expectancy has increased by twice as much in the last 100 years as it did over the previous 100,000 years. Extreme poverty has been reduced from 37 to around 10 percent in just 25 years. Every minute, another 100 people rise out of poverty.
E: What explains all this progress – what have we done right in the past decades that we previously did wrong?
"Mr Norberg unleashes a tornado of evidence … This book is a blast of good sense." The Economist
JN: In one word: Openness. In a more globalised world, people can use ideas and technologies that were developed elsewhere, and free trade has made an unprecedented level of specialisation and wealth creation possible. The fastest development by far has taken place in the countries that have integrated the most into the global economy.
E: How can we unleash even more progress – what behaviour and policies are holding us back?
JN: What is holding us back is actually our own fear. If the media and the populists convince us that the world is falling apart, we become fearful and want to protect what little we have. This fear blocks many things we need for further progress, like trade deals, opening up service sectors, innovations like GMOs and the Uberisation of the economy. This results in sluggish growth, a fear of the outside and a search for scapegoats. I think we need to understand the progress we can do, to unleash another wave of reforms.
---
'Progress: Ten Reasons to Look Forward to the Future' by Johan Norberg is available on Amazon.co.uk