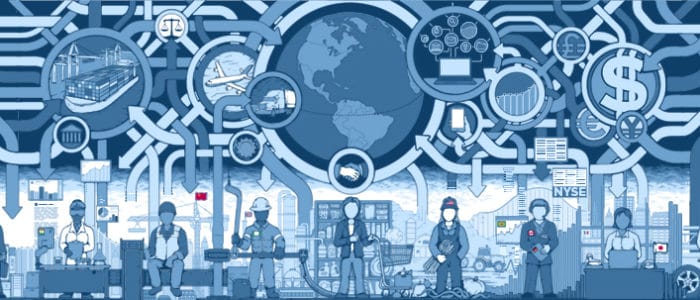 By Melina Kolb, Digital Communications Manager at the Peterson Institute for International Economics
---
The Peterson Institute recently experimented with creating its first longform online feature called "What Is Globalization?" It quickly sailed to the most popular page on our website and became the number-two hit on Google for what is globalization. What is more astonishing is the average amount of time spent on the page—over 19 minutes! Here are some lessons learned from the process.
Consider expanding to new audiences.
Think tanks normally publish in-depth analysis aimed at policymakers. But today's digital environment has added pressure to think bigger, with more competition for people's attention, the rapid spread of "fake news," and connectivity to more audiences. For anyone to make an impact, writing a policy brief is only a start. We need to bring more people into the conversation and disseminate our core findings in a multitude of ways to reach them.
To expand your audience, it makes sense to start with people who would be interested in your content, but fall slightly outside your existing circles. For this project, we focused primarily on reaching college students in related fields. Students may not be regular readers of our publications, but they offer a great way to increase public understanding of our issue areas and may use more of our resources as they enter the workforce. The piece would also be useful to less technical audiences that need a primer.
Tailor content for your target audience.
We had to strike a balance between being understandable, while not oversimplifying the material. This was the most time-consuming part of the project, requiring a lot of back and forth with scholars. (We made it to version 27.)
Through internal research, we found—unsurprisingly—that today's youth are incredibly attuned to the trustworthiness of information sources. We did our best to present the research clearly and fairly, with sensitivity to controversies on the topic. There are also lots of references and a disclosure in the credits on the Institute's mission and funding.
Given the long length of our piece and that schools are increasingly incorporating digital resources in classrooms, we formatted the content in a microsite—a standalone page on our website with its own navigation. We broke up long pieces of text with videos, graphics, illustrations, and photos to maintain engagement. Think tanks can add value to the public by creating these types of longform stories. Web development for this kind of project can be expensive, so we used a readymade template. The site is mobile-friendly and has social media sharing buttons.
We knew Google would also be a big driver of visits and a great vehicle for reaching potential new audiences. Our website analytics showed an old page on globalization was already attracting search traffic, so we strategically named the page and used SEO to draw visitors to the new page. This insight was part of the reason we started the project in the first place.
Use multiple marketing channels with unique messaging for each.
We created an ongoing series of social media messages that focused on different angles of the piece, and repurposed visuals to go with them. We sent emails to contacts and featured it on our home page. So far, Twitter has drawn the most visitors. Advertising will be the next step, and we now have an idea of which messages are most popular.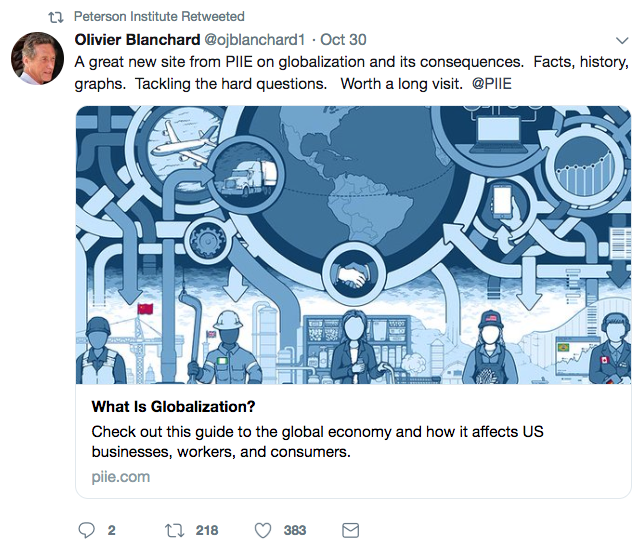 Measure the value of your efforts.
With high engagement, lots of visits, a low bounce rate (meaning visitors are clicking to other parts of our website to read more), and positive feedback, we can demonstrate how much the investment has paid off and plan future projects. We already have ideas for the next one. Stay tuned!
---
In this series of blog posts, we would like to present initiatives and voices aiming at promoting free trade within society. The information and views set out in these contributions are those of the author(s) and do not necessarily reflect the position of the European Centre for International Political Economy.