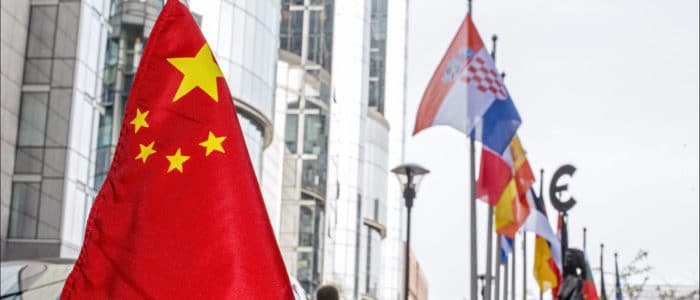 A leaked draft "Joint Declaration" reveals plans for an EU industrial policy in the cloud and data sector. The proposal is floated ahead of this week's European leaders' summit, which will discuss "European strategic autonomy" and "a more ambitious industrial policy". One can see the declaration as part of an effort to artificially create EU demand and EU supply for "trusted" European cloud and data services at the expense of existing, popular, but mostly non-European technology solutions.
The draft declaration proposes new certification requirements for data and hosting services, potential bans on foreign companies and "Europe first" public procurement policies. If implemented, the EU would inject unprecedented features of command and control regulation in Europe's highly dynamic and competitive markets for data services. The policy proposals outlined in the draft declaration would, if adopted, render the EU27 in many respects more Chinese: subsidies limited to homegrown firms, restrictive regulatory intervention for foreign firms and double standards vis-a-vis trade partners in terms national treatment – and de facto discrimination.
With this joint declaration, signatories would agree on "acting decisively" to facilitate the deployment of "trusted, secure, innovative and competitive" data storage and processing capacities for private and public sector use. It is claimed that a "joint European effort is required" to close Europe's 11 billion EUR investment gap in cloud technologies, while "we need to develop suitable European data processing capacities that meet the emerging needs regarding industrial data, especially in terms of services and processing that is close to the user […] and that guarantees users' data sovereignty". More precisely, the following policy measures are taken into consideration:
● EU and national subsidies of some 10 billion EUR for a European cloud federation project and European data spaces, "stimulating the emergence of resilient, sovereign and competitive European private supply for businesses and public interest sectors […] covering all layers of data processing capacities".
● A European certification regime (which might evolve to ex-ante licensing) ensuring the "highest guarantee European standards in terms of security, data protection, consumer protection, data portability and energy efficiency" to "contribute to European digital sovereignty".
● New policy options "to make the next generation European cloud offering available globally to stimulate the growth of European businesses".
● New legal mechanisms to effectively restrict foreign and EU-based cloud and data services companies which are "subject to the laws of foreign jurisdictions that could oblige access to be granted to EU data".
● New "demand aggregation" and EU "cloud first" public procurement policies at national, regional and local levels in the EU to "boost the twin green and digital transitions of our economy".
The measures outlined in the draft declaration are rooted in a broader political campaign for "European technology sovereignty" – a political catchphrase promoted by French governmental organisations and legacy industry leaders since 2015. The term is now increasingly being used by leading EU officials.
There are three major political narratives behind the emergence of technology sovereignty as a desirable political ambition for the (entire) EU: one is based on the assumption that Europe is somehow different from other parts in the world, particularly with regard to fundamental values and market regulations. Another strand reflects political fears regarding the future capacity of Europe's industry, notably multinational enterprises, to compete on world markets. Germany's Minister for the Economy, for instance, recently raised the need for a European Airbus for artificial intelligence. And the third narrative is based on the claim that the EU as a whole needs to have the policy instruments to control the outcomes of the digital economy and how citizens and companies use modern digital services.
The EU's latest digital strategy institutionalised numerous versions of technological or digital sovereignty. While the precise meaning of sovereignty in the realm of digital services, including modern cloud and data management services, remains ambiguous, the legal instruments outlined in policy papers like the draft declaration on cloud and data policymaking reflect a renewed appetite for isolationist laws in Brussels and some European capitals. Some EU lawmakers obviously like the idea to render the EU more Chinese, transforming the Member States to economies that are home to myriads of politically-opportune and often arbitrary government interventions.
The Chinafication of EU industrial policy doesn't come for free. New obligations would impede market access, slow-down competition and stifle innovation across complex industrial value chains. A de facto ban of foreign and EU-based firms operating abroad that, by nature, also are subject to non-EU laws would generate negative market responses from other parts of the world. European firms – beyond those that provide technology and digital services – may also lose market access abroad simply because the EU's trading partners would retaliate. And a new "European Cloud First" public procurement policy would not only feed corruption and inefficiency on European soil; it would encourage non-European jurisdictions to discriminate against EU suppliers when awarding government contracts, contradicting EU Trade and Investment Policy.
Moreover, recent calls for European data localisation by EU Commissioner Thierry Breton echo similar calls in regimes like China and Russia with dubious industrial policy and gloomy human rights track records.
Contrary to political aspirations, the measures proposed in the draft declaration on cloud and data would neither improve data security nor innovation across the EU Member States. Due to the protectionist design, the measures outlined in the draft declaration on EU cloud and data policymaking may indeed benefit a few politically picked winners in some (large) EU Member States. They would, at the same time, prevent the largest number of Europeans from accessing cutting-edge technologies, tapping into new economic opportunities and maintaining partnerships on global markets.
In a time of economic hardship, the EU and national governments should be wary of spending even more taxpayer money to replicate existing world-class technology solutions, that in most cases are used in combination with local technologies, with "Made in EU" services of inferior quality and reliability. Policymaking towards European technology sovereignty that benefits the largest number of Europeans – not just a few politically selected winners – should aim for a regulatory environment in which technology companies and technology adopters can thrive across EU national borders. The European Single Market has deteriorated in recent years and significantly during the crisis. The von der Leyen Commission has repeatedly called for a strengthening of the Single Market. Becoming a world leader in innovation requires a real Single Market in which companies can scale up, with as few hurdles as possible, and then compete globally. It should be supplemented by pro-competitive tax policies, incentives for research and investment and public investments in ICT qualifications. Europe's policymakers should also aim for closer market integration and regulatory cooperation with trustworthy international partners such as the US, the G7 or the larger group of the OECD countries.