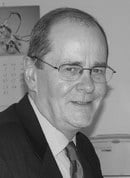 Stuart Harbinson had a distinguished career in public service in Hong Kong. From 1994 to 2002 he represented Hong Kong, and then the Hong Kong Special Administrative Region of China, in the WTO in Geneva. He subsequently joined the WTO Secretariat as Chief of Staff to Director-General Dr Supachai Panitchpakdi and then became Senior Adviser to Director-General Pascal Lamy.  He has rich experience as a former Chairman of a number of WTO bodies, including the TRIPS and Services Councils, and the Dispute Settlement Body. He was Chairman of the WTO's overarching body, the General Council overseeing preparations for the launch of the Doha round, and of the negotiating group handling the formative stages of the Doha negotiations on agriculture. He has also chaired a number of WTO dispute settlement panels.  After leaving the WTO, he worked in the UNCTAD Secretariat and for international law firms in Geneva, and has undertaken several trade-related technical assistance projects. He currently serves as a part time adviser on international trade for Penta Group, the world's first comprehensive stakeholder solutions firm.
UK Project

One of the stated aims of Brexit was to widen and customise the UK's trading relationships with the world. Several years down the line, the UK has made some limited progress towards this objective. However the international trading environment has become less hospitable, while the UK is still coming to grips with the many challenges - both international and domestic - involved in running its own trade policy. This article takes a look at some of...
View all
Media Mention

Stuart Harbinson on the future of Doha talks quoted by Euracitv...
View all
Article

Stuart Harbinson interviewed about the Doha Round and the...

Article

Stuart Harbinson outlines in VoxEU the choices for the Doha...
View all
Book or Paper

The report discusses the needs for more liberalisation and better rules in global trade and what WTO Members should focus on in the light of the next...
View all