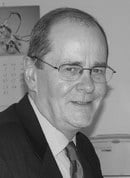 Stuart Harbinson had a distinguished career in public service in Hong Kong. From 1994 to 2002 he represented Hong Kong, and then the Hong Kong Special Administrative Region of China, in the WTO in Geneva. He subsequently joined the WTO Secretariat as Chief of Staff to Director-General Dr Supachai Panitchpakdi and then became Senior Adviser to Director-General Pascal Lamy. He is currently working in the UNCTAD Secretariat in Geneva. He has rich experience as a former Chairman of a number of WTO bodies, including the TRIPS and Services Councils, and the Dispute Settlement Body. He was Chairman of the WTO's overarching body, the General Council (2001/2) overseeing preparations for the launch of the Doha round, and of the negotiating group handling the formative stages of the Doha negotiations on agriculture (2002/4). He has also chaired a number of WTO dispute settlement panels.
ECIPE Bulletins

There is no doubt that the recent announcement by the U.S. Administration of tariff hikes on steel and aluminium, justified on national security grounds, presents the real threat of an extremely damaging tit-for-tat trade war. If the tariffs are challenged at the WTO, there is the unwelcome prospect of the WTO having to rule on whether the U.S.'s "essential security interests", taken in time of an "emergency in international relations", constitute a...
View all
Media Mention

Stuart Harbinson on the future of Doha talks quoted by Euracitv...
View all
Article

Stuart Harbinson interviewed about the Doha Round and the...

Article

Stuart Harbinson outlines in VoxEU the choices for the Doha...
View all
Book or Paper

The report discusses the needs for more liberalisation and better rules in global trade and what WTO Members should focus on in the light of the next...
View all