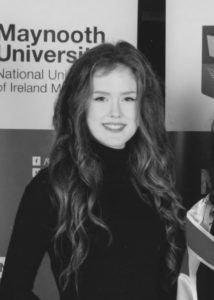 Anna Guildea is a Research Assistant in Trade and Digital Policy at ECIPE. She has recently completed her MSc in International Political Economy as a SPIRE Scholar at University College Dublin. She holds a Bachelor's degree with honors in International Development Studies and Sociology from Maynooth University – where she was awarded an Entrance Scholarship and an academic achievement award for her work. She was also granted a scholarship by the Irish Universities Association to spend a summer semester studying in Beijing.
Anna has previous experience working in the Adapt Centre, a research centre based in Trinity College Dublin, and as an intern at the Taihe Institute, a policy think-tank based in Beijing.
New Globalization

Services constitute at least a quarter of total trade. Between 2009 and 2019 global services trade increased by nearly 50%, compared to 18% for goods trade. Yet it is rarely taken as seriously as goods in global trade policy discourse. This is a problem when making the case for...

New Globalization

Free Trade Agreements between two or more countries or parties have been the centrepiece of international trade policy since the formation of the World Trade Organisation 25 years ago. Since 1995, no major round of multilateral trade liberalisation has been concluded, but there has been a sharp rise in the number of bilateral trade agreements. While some of these agreements have real consequences for trade in services and some administrative rules for trade, most...

New Globalization

China is now the world's leading manufacturer, with goods exports rising from $63 billion in 1990 to $2.5 trillion in 2018. The popular assumption is that everything is now made in China, and that falling manufacturing employment in the EU and US is due to this. The assumption is wrong. China is the world's largest goods exporter, but other countries have also experienced increases. One reason is that China is also the world's second largest importer of...
View all
Article

Anna Guildea discusses the impact of Biden's proposed global minimum corporate tax rate on Ireland's FDI-dependent...

Article

There is a national radical right populist presence in almost every Western democracy, but not in Ireland, despite all the amenable conditions for...
View all