Published
Biding time for a new U.S. trade agenda
Subjects: North-America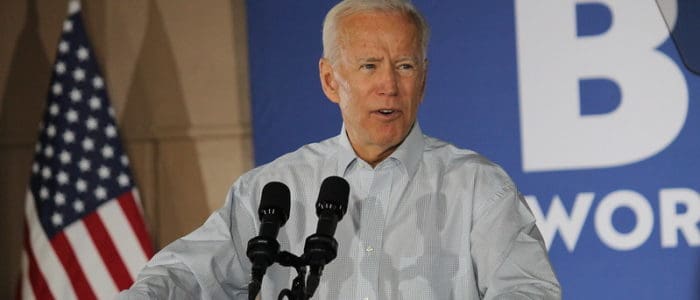 This note (originally published in print by the Global Commerce Institute in November 2020) looked at the direction of the U.S. trade policy under the new administration, immediately after the confirmation the electoral votes. Since its publication, President Biden has sworn into office – and as this note correctly predicts, the U.S. has rejoined the Paris Agreement, signed the executive order on strengthening Buy America provisions and refused to lift the blockade on the W.T.O. Appellate Body. At the time of writing, Katherine Tai was not yet nominated as the U.S. Trade Representative.
This note looked to the limited policy space available for reinventing U.S. trade policy due to domestic constraints and lack of options abroad. A free trade agenda would be a risky political gamble with little pay-off, and priorities are understandably elsewhere. Past administrations have raised objections against W.T.O. Appellate Body; China is also non-responsive to external incentives – and even allies like Europe may not provide enough impetus for Beijing to reform. Meanwhile, continuing along the old tracks allows the Biden administration to avoid playing the role of demandeur or seeking extensions on the Trade Promotion Authority (T.P.A.). This note predicted that such circumstances would change the job description for the prospective nominee for U.S.T.R. towards enforcement and institutional reforms.
From anticipation to impatience
Given the four tumultuous years we just laid to rest, President-elect Joseph Biden will enter White House with more goodwill from the global community than any recent occupant. Just by virtue of being elected, the President-elect has already accomplished his greatest political achievement: To deprive President Trump of his second term in office. We recognise by now that it is an accomplishment he was perhaps uniquely placed to deliver.
Nonetheless, there are overwhelming expectations, at home and abroad, that the new administration must undo every deed or misdeed of the U.S. Trade Representative, Robert E. Lighthizer. In addition, there are a few diplomatic breakdowns caused by Secretaries Tillerson and Pompeo (in addition to those of President Trump himself) that also call for immediate attention.
This article is not the first (and surely not the last) to speculate how the President-elect might redefine U.S. economic policy, or the nation's ties with the world. It is an ungrateful topic, often based on extrapolating the leaders' character and speeches – and speculations also often go awry. In reality, leadership is never exercised in a vacuum: There are only a few degrees of freedom by which the Biden administration could alter the country's course.
To begin, the new administration will face a divided Congress on trade, not least within President-elect's own party. The divide is no longer partisan or personal, but even cultural. Also, the U.S. is no different from most G7 or G20 countries, whose appetite for reciprocal trade liberalisation in domestic politics is somewhere between small and non-existent. Therefore, it may be a question of time before we hear of world leaders lamenting over how Biden's trade policy does not diverge far enough from his predecessor's – or does not diverge quickly enough.
Cards maketh the statesman
Biden's political instincts tend to veer slightly towards the traditional left, even compared to progressives like Barak Obama or Hillary Clinton. As the President-elect carefully nurtures his relations with unionised labour, his talking points on trade borrowed heavily from his conservative rival. The Biden campaign pledged a higher share of domestic content in U.S. auto manufacturing and to expand the Buy America Act with preferential treatment for U.S.-made infrastructure, clean energy and medical equipment.
However, it is easy to inflate the significance of campaign slogans. In the real world, good and viable options are few and far between. Even a U.S. President, or his Trade Representative [not yet nominated or confirmed at the time of writing], are victims of the circumstances: They can only play the poor cards that they have been dealt. Some constraints, like Congressional politics and grassroots opposition to trade liberalisation, may seem trivial for outsiders. But they are nonetheless existential threats to progressive politicians. Other limitations are more proverbial – and comes with being a hegemon in decline.
As the prospects for export-led growth are dire, we are not just out of options – but a free trade agenda would be a gamble with little pay-off. Seen through a myopic lens of Presidential terms, a full reversal of the entire America First canon is just infeasible. But a change might also be undesirable. It would be a grave misjudgement to assume that a Democrat would compromise on core national objectives – like containing China's rise, post-pandemic recovery or digitalisation – just for the sake of showing goodwill towards foreign nations and international organisations.
It is also a mistake to forget that many of the lapses we now think of characteristically Trump-esque were also leitmotifs of past U.S. administrations. For instance, America's withdrawal from the multilateral order and foray into preferential agreements began with KORUS under President Bush and came to its peak with the Trans-Pacific Partnership under Obama. Practically every U.S.T.R. has accused the Appellate Body of judicial activism and political bias – and in hindsight, the U.S. veto against the reappointment of Professor Chang Seung-Wha in 2016 (under the Obama administration) only foreshadowed what would happen to the remaining Appellate Body members.
Another ongoing issue [at the time of writing] illustrates the consistency of objectives throughout the administrations quite clearly. Both the outgoing and incoming U.S. administrations express discontent over the Government Procurement Agreement. Where the former wants to withdraw from the agreement entirely, the latter seeks to modify its commitments unilaterally. As the objectives of Biden and Trump align to national interests, the real difference is merely about table manners.
No changing horses in midstream
Consistency between the past and present is not just on objectives. Other constants are China's rise and Europe's decline. Beijing is unable or unwilling to accommodate U.S. strategic and economic interests – why a containment of China continues to be the defining feature of U.S. trade policy. Chinese politics is increasingly nationalist, inward-looking and sociologically complex – in a manner that is not entirely dissimilar to the politics in America's heartlands. Most importantly, a post-pandemic China under President Xi is entrenched and non-responsive to external economic incentives.
In that context, Europe (or any of the U.S. allies, including Japan, India and Australia) does not provide enough impetus for China to reform – at least in critical areas like state-owned enterprises, human rights or internet controls. By and large, transatlanticism has ceased to be the panacea to the world's first-order issues, while Europe is a veritable enemy in its own right. Unlike China, Brussels wields a considerable amount of soft power that legitimises agricultural and digital protectionism across the world, in direct opposition to U.S. commercial interests.
However, thinkers who oppose U.S. isolationism contend that President Trump's America first also became America alone and made the country weaker without its allies. And that notion largely holds true for America's security in a multipolar world – or when we need to stop bipolar tyrants with W.M.Ds. But the case is much less clear cut in trade negotiations.
Take the T.P.P., for instance. Those with mercantilist inclinations will argue that the U.S. did not need Australia, Canada or Singapore to open up Japan's rice quotas – one might even argue that T.P.P. partners diluted U.S. interests with other products that must fit within the same window. A similar logic applies to U.S.-China Phase I and II negotiations where U.S. allies have asymmetrical (or even contrary) market access interests vis-à-vis China, where allies could dilute and slow down the process significantly.
While Democrats needed to "hide" negotiations with Japan inside the T.P.P. for the sake of the autoworkers, President Trump was never inhibited by such political debts. In an essay published a week after the November 2016 elections, I predicted that President Trump could even attempt a trade deal with China – which would be the trade policy equivalent of "shooting someone on Fifth Avenue without losing any supporters." The reality TV-star rose to power despite his own party – and not necessarily thanks to it. President Trump possessed a unique policy space for trade negotiations that is difficult to recreate.
The President-elect cannot close the door on the bilateral U.S.-China talks because it is a door he could never reopen. Hence, Ambassador Lighthizer's Section 232 and 301 tariffs remain in place for China – and so does the deal for countries like Korea, who paid a too high price to avoid tariffs on steel and cars.
Continuing in the old tracks (including Lighthizer's tariffs) allows the new U.S.T.R. to avoid playing the role of demandeur that is asked to pay for any changes it seeks, but the new administration may name a more reasonable price for removing the irritants. Also, direct talks with China over unilateral concessions have the advantage of not requiring approval from Congress sceptical of trade liberalisation.
It is only in the case if this one-way approach fails that the new U.S.T.R. needs to look for its allies. It could reinstate the T.P.P., but there is also the nuclear option: To exclude China from universal benefits by renegotiating the basic GATT provisions (including the sacrosanct 'Most Favored Nation' principle) at the W.T.O.
It is ironic how preferential agreements were once responses to the failure of the multilateral Doha agenda. The failure of bilateral managed trade could now take the U.S. back to Geneva.
Jumping to the conclusion
There is a popular consensus that President Trump was – above all else – a great disruptor. The description is probably apt in the case of climate change, healthcare, immigration and most domestic issues. But on trade, President Trump was less of a disruptor, but a mere catalyst, that greatly accelerated already existing developments.
Whether we look to America's bifurcation with China, its intimidation against strategic partners or multilateral institutions, the outgoing administration was quick to jump to conclusions. And they did so in every sense of the last word: America first was not just unpremeditated actions, but also fast-forwarding to an endgame that was not destined to happen for perhaps a decade or later.
For instance, many observers seem to agree that a zero-sum conflict with China is inevitable. So, the real question for a negotiator-in-chief is how (or when) a declining power should seek confrontation – assuming he wants to fight it from a position of strength.
In that scenario, it is perhaps a matter of time before some partners or some multilateral institutions like W.T.O. or O.E.C.D. become dispensable (or even unwilling) to uphold a U.S.-based order against its adversaries. Let's not forget that some allies and adversaries may look confusingly alike for U.S. isolationists in places like West Balkans, the Korean peninsula or the internet.
In sum, very few objectives should change under the new administration. Hence, only a few processes (to achieve them) change too. There is too little political capital available to reimagine U.S. trade policy as priorities are inevitably elsewhere. With over a quarter-million Americans dead [by November 2020], the nation's pandemic response is a policy failure of historical proportions that rightly leaves little resources for other issues.
Whatever diplomatic bandwidth that is available, it goes towards repairing the damage in other areas: In the same fashion that the Trump administration withdrew from T.P.P. in the first week of office, the Biden administration's priority is to re-accede the Paris climate accords on Day One.
Finally, Trade Promotion Authority for the Executive Office (which is a pre-requisite for any trade agreement requiring ratification) expires at the end of June 2021. Its absence could fundamentally change the job description of a U.S.T.R. towards Phase II talks, enforcement, institutional reforms and other housekeeping duties. Such an agenda would also inevitably change the profile or paygrade of a prospective nominee.
President-elect has not just little gain from asking Congress for renewing the negotiation authority – it will not just put him at odds with his own camp, but also force him into a time-consuming horse-trading with mainstream Republicans. And time is a precious commodity for a 78-year-old President-elect who may not take a second term for granted.
Time is of essence for trade and tenses. Grievances of the present – and America's past mistakes – are both present in President-elect Biden's days ahead.