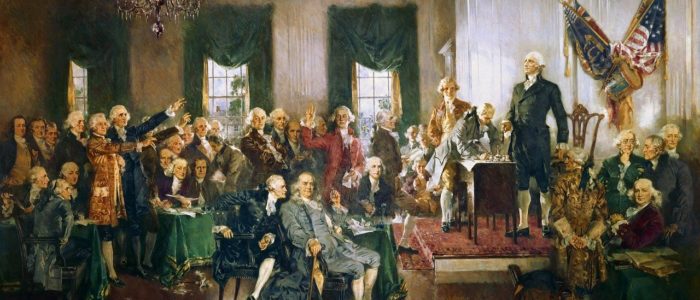 ---
Thanks to Anna Guildea for helpful comments.
---
Alexander Hamilton, Europe's new inspirational hero, not just because EU members have agreed to issue debt collectively for the first time, but also because of Hamilton's industrial policy. As the first Treasury Secretary of the United States between 1789–95, Alexander Hamilton unleashed an economic revolution of high-tariffs, big infrastructure projects, and pro-industrialisation.
While this may have all been revolutionary for its time, the world of the XVIII century is a poor guide for economic policy in 2021. Hamilton raised import tariffs not only to protect US infant industry but because he needed the cash to fund US infrastructure spending and repay US debt. Nowadays, tariffs have been substituted by taxes, and import tariffs are generally low. Moreover, the nascent globalisation that centred around Britain during Hamilton's life has been replaced by global value chains, allowing countries to specialise in the production of parts and components within a supply chain without having to recreate an entire industry. Import tariffs are no longer a recipe for industrial development or redevelopment. The specialisation of production will continue, moving from goods and services to research and ideas. Products will become more sophisticated not less, requiring more technology, innovation, and ingenuity. And as production becomes more complex and the knowledge frontier more difficult to push, production will break into more specialised tasks, where firms can add significant value-added and be rewarded for it.
And still, the most important insight of Hamilton's industrial policy holds true today: comparative advantage isn't a static concept. Countries economic endowments change over time and economic fortunes are not set in stone. The public policies which endeavour to change the structure of production to be more efficient is what we can call industrial policy. Investments in education, science, and infrastructure, trade and competition policy, or the support of some economic sectors over others, are all industrial policies, because they have the potential to make the economy more productive. Geoffrey Owen explains this really well in his ECIPE paper.
The broader boundaries of industrial policy are ideal for the kind of constructive ambiguity that triumphs in Brussels. The discussion is not whether the EU should or shouldn't have an industrial policy because, to some extent, it has had one for decades – take the EU single market as one of the most successful ones – but rather, what is the policy twist that will be added to the new EU industrial strategy.
The battle of ideas has begun with two different approaches towards industrial policy on the table. In one corner, open economies like the Czech Republic, Denmark, Estonia, Finland, Ireland, Latvia, Lithuania, Malta, the Netherlands, Slovakia, Spain and Sweden that together represent 28% of EU GDP, view the EU's new industrial strategy as an encompassing policy that includes the single market, digitalisation and the energy transition without compromising on openness and competition[1]. In their view, supporting critical sectors or technologies should be done by improving framework conditions. In other words, reducing barriers for research and innovation, better regulation, standards and infrastructure, while upholding strong state aid rules and diversifying EU's sources of supplies through trade agreements. This view of industrial policy recognises that more often than not, EU firms compete between themselves within and outside the EU, therefore favouring one EU company will have a detrimental effect on the others. As this group of countries put it: "…efforts to foster production and investment in Europe should be centred around ensuring favourable framework conditions, including long-term regulatory clarity and predictability. On this basis, European companies will be able to decide themselves how to adjust and optimize their manufacturing processes and ensure stable supply chains."
On the opposite corner of the quadrilateral, France and Germany, the two heavy weights of the EU economy with a combined share of EU GDP equal to 42%, hosting the largest and most successful EU businesses, also see industrial policy as a policy basket. In their view, the single market remains at the centre of the new push for an EU industrial strategy, a strategy that should be aligned with EU digital and environmental ambitions. However, while the previous group of countries want to uphold competition rules, France and Germany want to update them. For these two countries, Important Projects of Common European Interest (IPCEI) – where competition rules are relaxed to allow countries to subsidise private companies R&D projects – are a key tool to be developed in the future EU industrial policy. Furthermore, they see the Carbon Border Adjustment Mechanism (CBAM) as part of the EU industrial policy and are not afraid to call for "fostering production", which is a more subtle way of talking about re-shoring or import substitution.
Re-shoring, resilience, or self-sufficiency are some of the catchwords behind the new push for a more muscular EU industrial policy. It was Covid-19 – rather than Peter Altmaier and Bruno Le Maire, the respective German and French Economy Ministers – what propelled industrial policy to one of the hottest topics in Brussels. In the first quarter of 2020, as demand for some medical products skyrocketed, the EU saw itself unable to produce some of the personal protective equipment (PPE) and ventilators needed to treat patients with Covid-19. And even if imports from outside the EU and later EU own-production of these products increased significantly to meet the growing demand, the terrible images of doctors using rubbish bags to protect themselves and the fights among EU countries to buy PPE from China left an ugly scar in the minds of many politicians and the public at large. EU industrial strategy is seen as the EU's response to its perceived dependency on the rest of the world.
However, during the last two years, we've learnt that no country is big enough to produce all the necessary medical goods to face a pandemic. The best chance that countries have to cope with the peak in demand for some products as a result of a medical emergency is the flexibility brought by international markets and commerce. For example, between March and June of 2020, EU imports of single-use medical gowns from outside the EU went from 18 to 341 million euros.
While Hamilton wanted to protect US infant industry against the mighty British manufacturers, the EU is already one of the most industrialised regions in the world. Besides, EU push for sectoral re-shoring seems to fall into sectors which are neither infant nor lagging behind. Take the pharmaceutical industry as an example, where the EU is the largest world exporter of these products. Out of 155 pharmaceutical products, there were only eight products from which imports from one non-EU country accounted for more than 80% of EU total imports. There is nothing wrong with acquiring a better understanding of EU's supply chains and dependency on foreign imports. But the EU must be granular on its approach because otherwise it risks making a mountain out of a molehill.
Re-shoring shouldn't be the EU's industrial leitmotiv. It's based on a false premise and it risks alienating other countries that do depend on EU exports for many of their goods. The pursuit of a more productive, greener and digital economy is a worthwhile objective. For that, competition and trade, as well as using the funds from the Next Generation EU package to invest in education and research, are better tools to achieve it than import substitution.
---
[1] Joint non-paper by the Czech Republic, Denmark, Estonia, Finland, Ireland, Latvia, Lithuania, Malta, the Netherlands, Slovakia, Spain and Sweden. Achieving strategic autonomy while preserving an open economy.