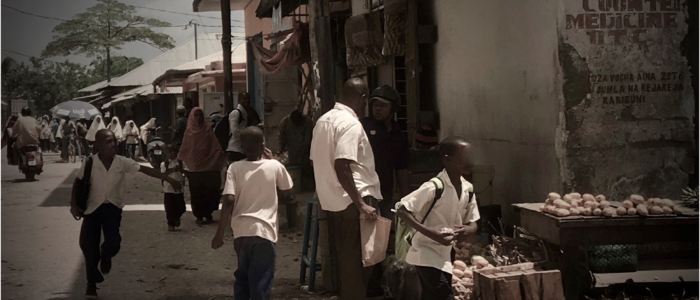 A street pharmacy in Tanzania (from author's own archives)
Debt relief is not a panacea to tackle the pandemic in the developing countries
In midst of the corona-crisis, the world's twenty largest nations in G20 have endorsed a freeze of sovereign debt repayments for low-income countries until the end of the year. But freezing interest payment is a stop-gap measure. To actually write off debt for the poor seems like an obvious cause for the world leaders, especially as a debt crunch in the major emerging markets would aggravate the economic fallout. Yet, an international consensus amongst governments and private creditors has failed to materialise.
So far, the CoVID-19 pandemic has struck relatively resourceful countries like China, Korea, Italy and the US. It is only beginning to reach the fragile and developing economies in South Asia, Africa and South America. While no country – neither rich nor poor – is well-equipped for a pandemic of this scale, many developing countries are already overstretched from malaria, HIV or war. The casualties could reach unfathomable numbers in places where social distancing is unworkable, running water or basic sanitation is unavailable.
Pandemic amplifies existing problems
Everywhere CoVID-19 goes, it poses problems that are peculiar to each nation since the virus seems to amplify the existing problems. For example, the EU unity dissolved once again to fratricide – as France seized shipments of protective equipment on route to Spanish and Italian hospitals. In the US, the pandemic laid bare the limits of its public healthcare system, as well as the idiosyncrasies of its political leadership.
Similarly, President Bolsonaro of Brazil is ridiculing the social distancing implemented by his own administration. In India – the next global pandemic hotspot – the urban poor in Delhi are rioting against the lockdowns that deprived them of their livelihoods. Yemeni government forces accuse the Houthi rebels of breaching the pandemic-induced ceasefire 241 times in just two days. Other economies will unearth structural problems that would not fit the total real estate available for this article.
International Monetary Fund (IMF) estimates that low-income countries lack more than $100 billion in CoVID-19 funding that the developing countries need. This is just a fraction of the recent stimulus packages introduced by the US Congress or the Eurozone governments that are counted in the trillions. Debt relief goes to just 25 low-income countries, excluding pandemic hotspots of India, Brazil or Egypt, with only a fraction of the needed amount – provided that these relieved funds go to fighting the pandemic in the first place.
Immediate and unconditional aid, not debt
What these countries need is not more fiscal policy space for their finance ministers, but actual aid – immediate and unconditional – that reaches their people. Firstly, the current shortage of testing kits and protective equipment in the west is just a forewarning of the crises across the southern hemisphere. G20 governments must urgently lift their export bans of medical devices, and secure fair shares of supplies for low-income countries. A long list of countries (e.g. Iran, Senegal, Congo, Niger and Mozambique) relied entirely on Europe for their supply of protective equipment needed to keep the medical staff alive. China and the West must also pay the manufacturers of medical supplies to keep their production going, even when the wealthy countries are out of the woods.
Secondly, the shortage of healthcare professionals in Sub-Sahara and South America cannot be solved only with more funds. Obama administration deployed 3,000 U.S. healthcare and army personnel (armed with syringes, not rifles) to stop the Ebola outbreak in West Africa. Anyone aspiring to take America's place must be prepared for large-scale deployments with unprecedented hazards.
Thirdly, exports will keep the developing economies afloat during the pandemic and speed up their recovery. Therefore, the wealthier countries must cut their import tariffs and quotas once they return to normality, and their consumer demand is restored. Low-income countries must be able to access that overseas demand to generate an income while the pandemic plagues their own economy. They also need export credits to finance purchases of supplies that are necessary to keep their farms and mills running.
While it is evident that aid and trade play the most critical role, debt relief could supplement those efforts. But any debt relief must be earmarked for pandemic prevention, where healthcare spending is matched by debt relief. To carelessly write off debt would lead to misspending and disincentivise reforms that are necessary to make them self-standing economies. Low-income countries are plagued by low incomes, i.e. lacking sustainable sources of government revenue, and inability to address fiscal mismanagement and corruption.
Unique circumstances behind each debt
Looking at a wider group of developing countries, circumstances for the debt are also unique for each country and the debt burden varies greatly. The debt servicing ratio – or how much a country pays on its debt relative to its national income – ranges from just 8% in Nigeria and up to 101% in Mongolia. The first country to request relief – Zambia – had only three (3) corona-related deaths so far. Meanwhile, Algeria is quickly approaching 500 dead since the beginning of April but has no immediate problems servicing its debt.
Much of the debt is also highly opaque to its own citizens and the world community. Debtors refuse to publish the outcome of international arbitration rulings that should affect their creditworthiness. China has also become Africa's largest creditor after nearly twenty years of lending-spree on strictly commercial – but undisclosed – terms. Understandably, creditors need to see all the outstanding liabilities before cancelling any debt.
Debt relief was admittedly a hard sell. Chinese institutions are less resilient than the IMF or the World Bank and need some return on its investments. Otherwise, China may suffer secondary effects on their volatile banking system that it deems unacceptable. It would also be remarkable if the EU countries would forgive debts for dysfunctional despots in Africa, while refusing to forgive or mutualise debt with their neighbours in Greece, Italy or Spain.
Economics and epidemiology have many tangents. Stopping poverty or pandemics is not just science, but a craft that builds on our experiences from past global crises. It can only be achieved by doing what actually works – without any delay, tremor or charades – on both short and long-term.