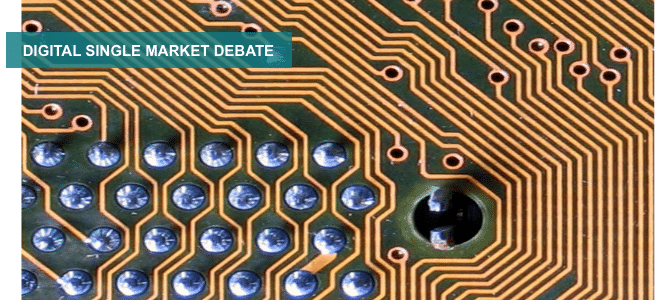 By Alastair Reed, Renaud Thillaye, Policy Network
---
The European Commission has just set out bold ambitions for a digital single market but achieving the buy-in of member states for pan-European reforms will be challenging as deep differences remain on issues of regulation. More worryingly, Europe faces far broader issues preventing businesses of all types from reaching scale, something which is especially inhibiting tech businesses. Tackling these politically fraught issues could ultimately have more of a bearing on the ability of European businesses to compete with those in Silicon Valley.
The EU has been talking about a digital single market for fifteen years now. The Lisbon Strategy prompted the eEurope Action Plan 2002 which had three key digital goals (access, skills and use of the internet) that remind of the three areas in today's new strategy. The Europe 2020 strategy has its Digital Agenda for Europe 'flagship initiative'; and in 2011, the Digital Single Market was one of twelve initiatives that were part of the Commission's Single Market Act I, an attempt to accelerate market integration in a few key sectors.
These strategies have all been characterised by bold ambitions and objectives, many of which have proven challenging to meet. The Competitiveness Council set out in May 2012 to complete the digital single market by 2015, something pledged again last year by EU heads of states and governments.[1] But most of the measures in the latest strategy are not set be introduced until at least next year, and will take far longer to be fully implemented.[2]
This highlights the EU's wider problem of the rhetoric-action gap, evident in other parts of the Single Market such as energy, whereby grand objectives are thwarted by resistance from member states and inter-institutional disputes. Indeed, the Commission follows instructions to set out an agenda demanded by heads of states of governments, who often pay lip service to the need to address the deep regulatory divergences that cut across them.
The recent DSM Strategy focuses primarily on removing legal and technical barriers to cross-border online trade, geo-localised restrictions on cross-border access to content (copyright) and the uncoordinated deployment of new technology (spectrum policy). This gives the impression that merely technical issues prevent the emergence of pan-European digital and telecom operators. Yet this masks deeper philosophical disagreements and a lack of mutual trust between member states. This has been particularly obvious on two pieces of legislation which have now dragged along for two and three years respectively: the Connected Continent regulation, which aims to create a single market for telecoms, and the General Data Protection Regulation, which seeks to harmonise data protection rules.
The ambitious deadlines set out in the DSM strategy risk once again being missed since, like in other areas, member states are obstructing harmonised regulation and single supervision, even when under great pressure (such as with the Banking Union). On digital regulation, member states have gone ahead with unilateral regulatory initiatives, for instance the Netherlands on network neutrality. France will soon be debating a digital act ('loi numérique') that will include new regulation on open (public) data, the right to be forgotten and class actions against large corporates. Rather than pursuing fully-fledged harmonisation, a more pragmatic approach would be to improve the inter-operability of national legislation and to rely on mutual recognition. Where common rules are necessary, the EU should avoid stifling the key strengths of the digital economy, namely the use of data, the part of non-neutrality behind algorithms and advertising, and the reliance on US platforms to develop new applications.
However, beyond the imperative for harmonisation are a broad range of reforms required for Europe to boost its competitiveness and seek a greater digital uptake throughout the economy. This includes policies on research and innovation, openness to competition, access to funding, the capacity to use technology and digital literacy. As the Commission points out, 39% of EU citizens have only low or no digital skills and about one fifth (18%) of the EU population has never used the Internet.[3] Only one in five companies use paid cloud services in the EU, and in 2014, only 23% of European companies were investing in business sensors, a simple way to learn from data about their costumers and the productivity of their organisation.[4]
Above all, European tech companies are losing out to their US rivals. Of the 32 major global digital platforms identified by Commissioner Oettinger, all but five are American and only one is European (Spotify). This is symptomatic of the lack of dynamism in the European economy, rather than any specific digital policies. Europe is failing to scale up businesses of all types, whether app designers or traditional manufacturers. The US has higher levels of business births and deaths, and a higher proportion of businesses growing and shrinking rapidly. Most big EU corporates have consequently been around for most of the past century; whereas in the US many top corporates, such as tech giants Facebook and Google, have barely been around for a decade. This dynamism not only creates good new jobs but also reallocates resources to more productive purposes and increases competition and choice for consumers.
Making it possible for digital firms to operate more easily across the EU, as the DSM strategy is focused on, will help businesses in those sectors to reach scale in Europe first. But economic reforms, such as the Capital Markets Union, can be just as important. Our recent report on 'Supporting investors and growth firms' found that the US has respectively three- and five-times the level of business angel and venture capital investment than Europe, which gives early-stage US companies a major advantage.
As with harmonisation though, member states have strong incentives to oppose such reforms. The 'winner-takes-all' global nature of digital markets will destroy types of jobs and modes of employment, and threaten long-established incumbent firms championed by national governments. Politicians still lack convincing narratives about the place of creative destruction in the future economy, and they have not yet fully thought its social implications through. Also, the increasing importance of network effects and human capital risk sucking the top jobs, entrepreneurs and ideas to a single dominant cluster, as has been the case in the US with Silicon Valley. This is the logic of a true digital single market. Yet are member states ready to choose between Dublin's Digital Hub, Paris' Cap Digital or London's Tech City, not to mention the dozens of Silicon Valley wannabes popping up in Amsterdam, Berlin, Oulu, Lisbon and Riga?
If Europe is to challenge the dominance of the US, it needs more than a few legal tweaks to increase cross-border e-commerce. Europe needs to understand and embrace a whole new digital and entrepreneurial culture.
[1] http://www.consilium.europa.eu/uedocs/cms_data/docs/pressdata/en/ec/143478.pdf
[2] http://www.consilium.europa.eu/uedocs/cms_data/docs/pressdata/en/intm/130520.pdf
[3] http://ec.europa.eu/priorities/digital-single-market/docs/dsm-swd_en.pdf, p.69
[4] http://www.pwc.com/us/en/advisory/business-digital-technology-trends-sensors.jhtml