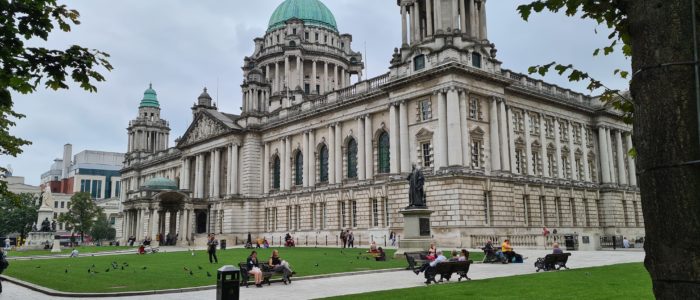 When it comes to Northern Ireland, there is rarely a single story. Complexities of post-Brexit trading arrangements were overlaid on existing political and social ambiguities in the form of a Northern Ireland Protocol agreed in 2019, implemented in January 2021, and increasingly polarising since then. A United States political community laying bipartisan ownership to the Good Friday Belfast Agreement confirming the end of the troubles in 1998 became increasingly involved, as did others to questioning the UK's international relations. Movements of goods between Great Britain and Northern Ireland were subject to controls, while for UK exports to the EU as a whole, threatened trade wars caused business uncertainty across the UK.
On February 27 the UK and EU announced a deal billed as the Windsor Framework which sought to resolve many of the issues. Concepts such as Green and Red lanes, and a Stormont Brake, entered into political debate, as Prime Minister Rishi Sunak hailed a success that many believed was being oversold. Goods movements were to face fewer barriers, local politicians have greater involvement. There were broader developments, a resurrection of talks for the UK to acceded to the Horizon science research programme, likely accession to the Trans Pacific Partnership (CPTPP). Yet, when focusing on Northern Ireland, rather in keeping with its history this is far from the end of the story. Unionist politicians have yet to decide if the deal is sufficient to lift their veto on the devolved government, and implementation of complex texts leaves much to be decided that could cause many issues. 
Northern Ireland and Brexit has become an almost impossible subject to cover comprehensively, though books have already been written seriously (Brexit & Ireland by Tony Connelly) and somewhat less so (I am the Border, So I am, by a twitter account representing a land border in Ireland that may have to return to work). Mixing at times highly technical trade discussions with devolved, national and international politics, it spans a range of subjects beyond most individuals. Indefatigable souls such as Queens University Professor Katy Hayward, aforementioned RTE journalist and author Connelly, and Northern Ireland government's man in Brussels Aodhan Connolly will doubtless have understanding across the piece, this blog attempts to examine just some of the important facets.
1. Northern Ireland's political ambiguity inevitably means some ongoing trade instability
A key starting point for any discussion on Northern Ireland and Brexit is that the heart of the Good Friday / Belfast Agreement of 1998 was an ambiguity over identity between nationalists looking towards Ireland and unionists seeing themselves an integral part of the UK. Only just manageable within an EU that removed borders, a Brexit which expects UK customs and regulatory divergence inevitably meant complexity and probably political turmoil. The rough framework adopted remains that Northern Ireland remains in the EU single market for goods to avoid a land border alienating one community, with various easements to soften any Irish Sea border alienating the other, and outside it for services. The Windsor Framework makes considerable moves on top of the Protocol to ease goods movements from Great Britain to Northern Ireland, but EU law is retained, and it is to be expected that there will be ongoing issues at various levels that will need to be managed. 
2. Meeting the key ask of the Northern Ireland business community
Spend time with the impressive Northern Ireland Business Brexit Working Group and for some time one topic has dominated, that we know this is complex, and we need the UK and EU to commit to work through issues as they arise with us. More than the exact detail of what has been agreed to facilitate movements, important though rules for the likes of supermarkets or consumer parcels will be, was for both sides to recognise this, and it seems that this has happened. Like the rest of the detail, those involved are still reading and trying to fully understand exactly how and when this engagement will happen, but its inclusion shows a determination to avoid previous mistakes made by both the UK and EU. Northern Ireland business has the benefit of access to the EU and UK markets, but that potential benefit had been undermined by uncertainty and frustration, the removal of which should create economic opportunity that is sorely needed.
3. Rishi Sunak prioritises clearing the mess left by his predecessors
Latest figures from a regular survey undertaken by Queens University Belfast show that just 3% of Northern Ireland's population trusts the UK government with regard to these Brexit issues, and given recent history that is unsurprising. As Prime Minister, Boris Johnson agreed the original Northern Ireland Protocol with the EU as a way to get Brexit done, over unionist objections while immediately lying that this would not mean checks. Suggestions by his supporters that this was forced on him by Parliament are rather undermined by the fact the UK government then agreed an implementation plan with the EU in December 2020 when it also wanted to complete the Trade and Cooperation Agreement. This had come after the UK had already threatened to breach the Protocol through the Internal Market Act, and within a few months it was seeking to make fundamental changes again, ultimately leading to the Northern Ireland Protocol Bill proposing to give Ministers the unilateral right to override what had previously been agreed. During this time the UK government were also encouraging unionists to believe fundamental change was possible, and that they could make maximalist demands.
Rishi Sunak, after becoming Prime Minister in October 2022, in effect abandoned the absurd belief that the EU only concedes in negotiations with third countries under threat, and sought a more conciliatory approach. Unlike his predecessors he didn't tell the EU that their red lines in protecting the Single Market were wrong. He seemed to understand that resolving the mess was an important element in restoring a reputation for government competence, which in turn was an essential part of seeking to improve economic conditions. In terms at least of competence, it appears so far so good.
4. UK friends stage an intervention
Talking to a fellow Conservative MP in the week before the deal was announced, Boris Johnson apparently said "Fuck America" with regard to his opposition to what Sunak was negotiating. He will have been aware of the level of genuine bipartisan anger in the USA about the UK threat to breach the Protocol and as they saw it undermine peace through the Northern Ireland Protocol Bill. Bilateral dialogue was effectively put on hold, and Senators pushing for deeper relations through a Free Trade Agreement found little interest while the threat was alive. Less viscerally, the US reaction was shared among countries of the CPTPP to which the UK was seeking to accede, who made it clear to the UK that this would not happen until the Bill was dropped. With China another applicant, there was no way a country could be allowed access who did not show respect for existing commitments. There was however also an incentive, as Japan in particular made it clear that it would help facilitate accession if the UK would do its part. After complaints late last year that the UK government was still not quite getting the message, the coincidence of the Windsor Framework taking place in the same week as a CPTPP negotiating round should be seen as deliberate. Similarly, agreement may well have come in time for a President Biden to plan state visit to the UK to mark the 25th anniversary of the 1998 agreement.
5. Unionism finds Brexit a tough place
According to surveys, a significant majority of unionists voted to leave the EU. A likely reason was that they believed the UK would be strengthened at the expense of all-Ireland links. What was almost certainly not considered was that they would be repeatedly undermined by a Westminster government which would always prioritise international deals over specific Northern Ireland concerns. The Democratic Unionists, their dominant political party, has now seen their demands to avoid all trade barriers between Great Britain and Northern Ireland disappointed three times, in 2019, 2020, and 2023. For a UK that wants deals with the EU, US and others, it turns out there is no other realistic approach when broad international opinion holds that border infrastructure on the island of Ireland is impossible. Seeking to protect their interests, the unionists suspended participation in devolved government, Stormont, demanding to be treated the same as the rest of the UK. A 'Stormont brake' which may allow unionists to at least pause the implementation of new EU goods regulation in Northern Ireland was negotiated as an answer to some concerns over a democratic deficit, but this is heavily circumscribed. EU law will continue to apply in regard to most goods. Meanwhile, unionists face larger challenges. With demographic changes contributing to Sinn Fein becoming the largest party in Northern Ireland and the growth in those identifying as non-aligned, there are serious questions as to how to proceed, and some are regretting they ever voted for Brexit.
6. EU learns to treat the UK differently
While insisting on the importance of its single market and the avoidance of a land border in Northern Ireland, the compromises the EU has made in the Windsor Framework show that it has also recognised that unionism and the UK single market are also important, and perhaps therefore that previous approaches were too dogmatic. There's significant small print which qualifies concessions, but in for example allowing UK public health regulations to apply in Northern Ireland, consumer parcels to not be subject to customs checks, and pets to travel freely, the EU has accepted 100% single market protection is not politically sensible. Northern Ireland therefore is treated differently, but to an extent the same applies to the UK as a whole. Good relations with neighbours have rarely been an EU priority, but the UK is a large trade partner, an important element of European security, and a player on the global stage for example with regard to US and China relations. It is becoming increasingly evident that much greater ongoing dialogue will be required that was originally thought, the UK can't be treated as just another external relationship, meaning greater efforts invested by both sides. The concessions weren't just about Northern Ireland.
7. Opening up future cooperation, Labour consider how much further they could go
For the Labour Party, the previous Northern Ireland Protocol impasse was an opportunity to demonstrate their maturity and readiness for office. In suggesting a UK-EU food and drink agreement that would substantively remove Irish sea checks, they had a solution for an apparently impossible issue, at the same time satisfying supporters who want to see much stronger EU relations. Now that the government has delivered its own version of this, with the likelihood of Horizon accession subject to budgetary issues, and CPTPP showing Global Britain aspirations are not yet dead, the Labour Party has more of a challenge in distinguishing their position without reopening old wounds around remain versus leave that may threaten their political support. Discussions have been turning to further commitments on regulatory alignment to improve trade flows, and these could be boosted by the signs the EU will be willing to go further than previously indicated, but there's much more thought needed now the political field is no longer clear.
8. UK learning to negotiate
Lost in the politics of past, present, and future might be one of the most encouraging signs of the new Windsor Framework, which is that for the first time since 2016 the vast majority of those seriously studying the text think it represents a decent result for UK negotiators. Usual comments from the EU of their disappointment in UK officials they used to believe were among the best have not been repeated this time. There were few empty threats, and the compromises reached look like good, balanced results. Secrecy remains an institutional problem, understandable with the tensions, but also in danger of reducing acceptability of the outcomes, but there are signs even this has been recognised. Exaggerated claims made by Rishi Sunak were an annoyance, but that is a common problem with international agreements in many countries. There was never a good reason why the UK should have struggled to negotiate, but poor leadership often combined with particularly unjustified arrogance most commonly undermined officials. Perhaps also after six years negotiators have simply learned by doing. Either way, future governments will be happy if the UK can develop effective negotiating machinery.
9. Consumers prioritised amid the complexity
One sign of the maturity of UK negotiators in the Windsor Framework was the way they build trust with the EU through an initial agreement on access to data, which had been a long-time demand. Perhaps another was the signs through the agreement of the priority given to resolving consumer issues, a proposition much harder to oppose than for example those based on business costs. Thus, the blanket approval for goods sold in supermarkets in Great Britain to be available in Northern Ireland, subject to labelling (following a smaller Swiss precedent), which involves unexpected movement by both EU in terms of dropping regulatory requirements, and the UK in accepting a certain amount of alignment. Pet movements and parcels are similar symbols that will matter to ordinary people, no matter the lengthy conditionality that is needed to deliver this. By contrast, there is less change to more esoteric subjects to the general population such as the European Court of Justice jurisdiction or State Aid rules. Given the fraught politics, focusing on issues of concern to the general population, while assuming other players will have to adjust, looks shrewd, as well as perhaps also symbolising a softer display of unionism, of a single population. 
10. Conservative Party step back to pragmatism
Cynics may note that this is the second time an agreement between the UK and EU over Northern Ireland has been reached ahead of a UK General Election, albeit this time probably rather more in advance than in 2019. What cannot be doubted is that right now the Conservatives fear defeat at the hands of a Labour Party that looks electable, and that throughout history that tends to mean their focus changes. Whereas until recently the predominant approach towards the EU appeared to one of emphasising UK sovereignty, now there is a lot more talk of pragmatism in the face of Brexit fatigue. Perhaps it helps that Rishi Sunak voted to leave the EU but not out of some sense of it as the enemy, that might also help persuade people this is a good deal negotiated by equals. Coming ahead of an election there could also be a question as to whether such a change will be permanent, but there are signs that will be the case. Poor economic performance is increasingly linked to Brexit, and those connected with hardline positions appear to be finding themselves more isolated. Ups and downs are of course to be expected, but there is every sign that the UK-EU relationship has turned the corner. That still won't necessarily mean stability for Northern Ireland, but the latter can't be achieved without the former. That, then, is ultimately why the Windsor Framework is a development to be welcomed.