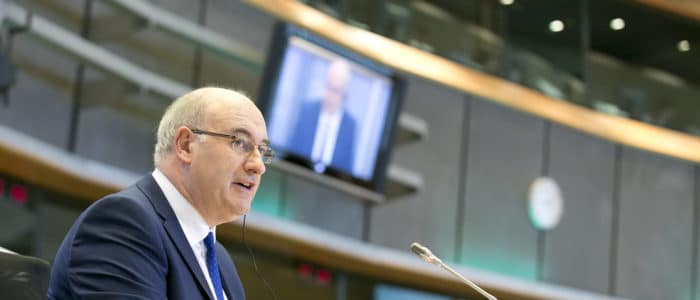 Now that he took office, no shortage of work awaits Mr Hogan, the new EU Trade Commissioner. We review some of his key challenges.
'I always seem to inherit a job when things are not going too well'. With these words, Mr Hogan commented his nomination as the new Trade Commissioner of the EU, a position with a dense, high-profile portfolio and important responsibilities. At ECIPE, we will follow closely his work and provide constructive feedback when necessary. Among the many challenges of his mandate, we outline three key issues below.
1. WTO reform, underlying trade frictions and the role of the EU
Discussions over WTO procedures and practices have been underway for years. However, to advance these discussions effectively, it is key to keep in mind that the process of WTO reform is directly linked with current trade frictions among key members, notably between the US, EU and China.
Addressing these underlying trade frictions is a necessary condition for the process of WTO reform to be effective. It is also an opportunity for the EU to step up as a manager. It should be a priority of the new Commission to reach out to the US and China and work towards building a tripartite effort to address these frictions.
Screening foreign investment, especially from China, or the establishment of a new position of trade enforcer are well-suited tools to defend European interests. Indeed, it is key to deal with some of the concerns that have long been expressed by the EU, such as forced technology transfer, intellectual property rights issues, and subsidies. But these tools cannot replace dialogue. The role of a manager also has to be that of actively reaching out and pursuing to build consensus.
2. Fostering increased and sustainable integration of European SMEs in the global economy
In many regards, Europe enjoys a privileged position in global trade. The region has been a driving force behind the growing importance of GVCs and participates in complex, specialized and high value-added supply chains. Yet, more can be done to make sure these benefits are equally shared among EU companies, especially given that SMEs tend to be underrepresented in international trade.
For the future, it is vital to reduce inequalities across EU countries in terms of SMEs' capacity to contribute to total exports, value-added and employment. Furthermore, recent data suggest that, especially for some Eastern European countries, an increased effort will be necessary to upgrade their participation in supply chains. Policies to further develop linkages with foreign lead firms, such as supplier linkage programs, remain vital to support small firms' transition towards the most high-value and innovative stages of the production process.
Moreover, to facilitate SMEs' transition towards sustainable production, these interventions could also involve a systematic matching with lead firms embracing environmentally friendly business practices, given the potential for these larger companies to promote green initiatives along the whole supply chain.
Finally, EU policy also has to help SMEs prepare for the future of trade. In the next 5 years, the share of intangible trade such as services, digital trade and ideas will continue to increase. The EU generally has a strong position on those areas, but trade policy will have to be a key support for SMEs to stay competitive.
3. Advancing trade integration while promoting EU values in a coherent way
One of the key messages of Mr Hogan's introductory speech is that his mandate will expand trade opportunities while at the same time also promoting EU values. The main challenge will be to achieve both goals, coherently and assertively. For example, the inclusion of sustainable development chapters in trade agreements, a practice that the EU has promoted since 2011, represents a strong commitment to protecting labor and environmental standards. Yet, this effort risks being shadowed by EU member states' limited reaction in a major crisis.
Take the recent Turkish military operation in Syria, for example. Founder of the medical charity Emergency, Gino Strada, criticized the EU for its soft approach to the matter. Even when some EU countries resorted to a ban on exports of guns to Turkey, the EU appeared slow and divided. When the next crisis breaks, Mr Hogan should urge member states to stand up united to promote EU values as assertively as he wants to do through trade policy.