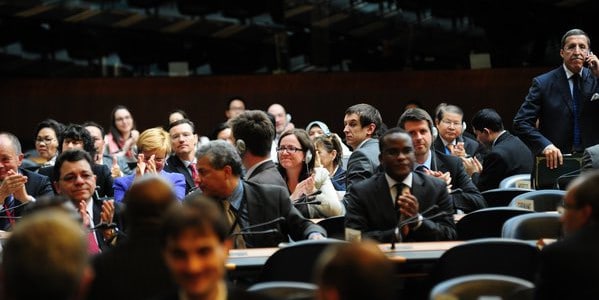 The 10th Ministerial Conference of the WTO finished on Saturday night in Nairobi with a package of agreements the WTO itself calls "historic". Considering that some believed that the WTO was severely deadlocked and almost dead, this might be true. Looking at the expectations and objectives that were set out at the beginning of the Doha Round in 2001, it can, however, also be argued that many of the objectives set out fourteen years ago have still not been achieved. This is admittedly also due to changes in the global economy and in the pattern of world trade which have meant that the Doha Agenda has been progressively overtaken by events. Yet, it also shows that although WTO members have indeed delivered something in Nairobi, they might have just delivered the minimum to keep the organization alive. As not all members agreed to reaffirm the Doha Agenda the Financial Times therefore argues that the Doha Round has finally died in Nairobi thereby paving the way for the birth of a new WTO.
After several years of stagnation the WTO deadlock seemed to be overcome by the success of the conclusion of the Trade Facilitation Agreement in Bali in 2013. It seemed that new confidence arose that the WTO could indeed deliver. Yet, two years later at the next Ministerial Conference only 63 of the WTO members have ratified the Trade Facilitation Agreement (two thirds of its 164 members need to ratify to enable it to enter into force). The Nairobi package features the elimination of export subsidies on agricultural goods and the expansion of the Information Technology Agreement (ITA) as the main results, but apart from that no other significant results have come out of the Ministerial Conference and the future that lies ahead of the WTO is insecure as members disagree on whether and how to continue the Doha Round work programme.
Apart from an agreement on the schedules for the expansion of the Information Technology Agreement, the Ministerial Conference in Nairobi has delivered six Ministerial Decisions. This Nairobi Package includes decisions on agricultural export competition, on public stockholding for food security purposes, on a special safeguard mechanism for developing countries, on cotton and on two issues of importance to least-developed countries (LDCs), namely preferential rules of origin and a waiver for preferences granted to services and service suppliers from developing countries.
Aiming at levelling the playing field for agricultural export competition, the main achievement of the Ministerial Conference is to have members agree on the elimination of export subsidies on agricultural products. Developed countries have committed to an immediate elimination of export subsidies for agricultural exports (export subsidies on processed products, dairy products and swine only need to be eliminated by the end of 2020 if they have been notified to the WTO). Developing countries are granted more time and shall eliminate their export subsidies by 2018 or 2020 on the products for which export subsidies were notified. In order to avoid circumvention and use of other disciplines as disguised subsidies additional provisions on export finance, state trading enterprises and international food aid have been included which restrict members' use of these disciplines. Although this agreement can indeed be seen as a major achievement for agricultural negotiations at the WTO, it has to be kept in mind that the new agreement only covers export subsidies, as no concessions have been made on domestic subsidies which still remain in place.
The Ministerial Declarations on public stockholding for food security purposes and on a special safeguard mechanism for developing countries do not really deliver tangible outcomes as both declarations mainly require members to further negotiate solutions in Special Sessions of the Committee on Agriculture. The agreed outcome on public stockholding for food security states that members "shall engage constructively to negotiate and make all concerted efforts to agree and adopt a permanent solution". The permanent solution would then replace the current temporary arrangement which was agreed at the Bali Ministerial Conference that countries would not challenge such schemes at the WTO. Similarly, in the declaration on a special safeguard mechanism (SSM) members recognize "the right" of developing countries to use the SSM and commit to "pursue negations on an SSM for developing countries".
In the Ministerial Declaration on cotton developed countries and developing countries "declaring themselves in a position to do so" (e.g. China) commit themselves to grant duty free and quota free (DFQF) market access for cotton exports from LDCs from January 2016 "to the extent provided for in their respective preferential trade agreements." Furthermore, developed and developing countries will eliminate export subsidies on cotton and cotton-related products immediately or by January 2017, respectively. Yet, again no commitments have been achieved on domestic support where "efforts remain to be made".
Concerning the two issues of major importance to LDCs, a waiver for non-LDC countries to grant preferential market access for services providers from LDCs has been extended for another 15 years until end 2030. Thus, the services waiver had already been adopted in 2011 and as of today only 20 WTO members have submitted notifications to grant such preferences. Regarding the second issue, the preferential rules of origin for LDCs, the Ministerial Declaration provides guidelines on how to apply different methods to determine when a product is "made in an LDC"; it encourages members to expand cumulation of inputs from other countries and it requires preference-granting members to "consider" streamlining customs procedures. The provisions in the declaration include, however, mainly non-binding language as "shall" is often weakened by derogations such as "members applying another method may continue to use it", members shall "consider", "where appropriate" or "to the extent possible".
Finally, the biggest disagreement between members was expressed regarding the non-reaffirmation/reaffirmation of the Doha Round. The general Nairobi Ministerial Declaration acknowledges that members have "different views" about the future of the Doha Round, although they agree that there is a "strong commitment of all members to advance negotiations on the remaining Doha issues". As the Doha Round originally set out a work programme focused on improving the trade prospects for developing countries, a non-reaffirmation of the Doha Round might create the impression that the needs of developing countries are not being taken seriously. Such an impression can severely impede the future work of the WTO as it depends on a trustful negotiation relationship among its member states.
Admittedly, multilateral negotiations must be a difficult undertaking and it must be particularly challenging to pursue a round of negotiations over such a long time while the world moves on. Economic powers among players and the focus on what issues are import for international trade change over time. However, if the multilateral trade rules do not advance, members increasingly focus on regional and bilateral negotiations. Therefore, the WTO must modernize itself in order to not become irrelevant. Maybe Nairobi has indeed given birth to a new WTO and this is a good time to start.
Issues of a modernization process might include, on the one hand, the question how to reform the institutional structure of the WTO. This includes the question of how to take better account of the different levels and speeds of development of member states which create different needs and responsibilities. Reforms therefore need to consider how to increase the accountability of emerging countries and account for their important role as preference-granting countries. Enabling graduation from the developing country status could also provide new incentives for developed countries to increase their preferences granted to developing countries.
On the other hand, a reform process will have to find ways how to integrate new issues of substance which have become important for international trade today in the WTO negotiation agenda, for example by providing a forum to discuss regulatory cooperation or account for the implications of trade in global value chains. Furthermore, advances in the international trade agenda developed under the new mega-regional trade agreements need to be integrated or at least linked to the future work of the WTO.
At the same time, if the Doha Round should really be dead, WTO members have to ensure that developing countries do not perceive moving on to additional new issues as no longer taking their needs seriously. Otherwise it will be difficult to convince all members that it is time to move on to new issues. How this can be done remains to be discussed and negotiated in the upcoming months.