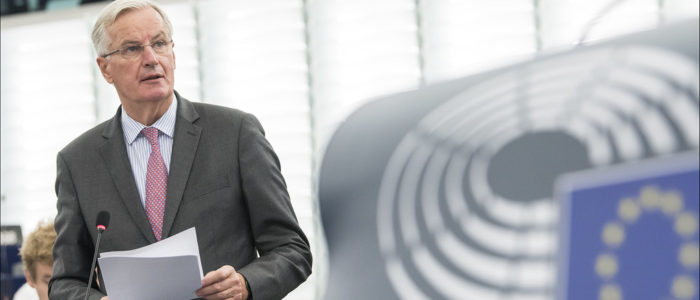 We are around halfway through the time allocated for UK-EU future relationship talks. It is four months since the UK finally left the EU, and four months from here take us to the end of September, by which time we really need to be close to an agreement if it is to be ratified and business prepared for introduction as from 1 January 2021. The originally proposed timescale was going to set modern speed records for negotiating a major trade relationship if achieved. Then came the COVID-19 crisis, the distraction of governments, and the prohibition of all travel after just one face-to-face round.
Right now the prospects of agreement don't seem to be particularly good. The UK government continue to complain that the EU is not respecting sovereign independence. EU negotiators think the UK side doesn't really understand how to negotiate trade deals. There are major differences in approach between the two sides across their draft texts, including on level playing field provisions, mutual recognition in both goods and services, access to fishing waters, rules of origin and the overall governance structure. The UK side has adamantly rejected any extension to the transition period for extra talks.
Yet there are also reasons to think a deal could be reached. The core of an agreement, goods trade free of tariffs and quotas, is agreed. The UK government seems unlikely to carry out its original threat to walk out of talks this month. A high-level summit is planned for later in the month at which negotiators seem likely to be tasked with working through the summer to agree on as much as possible. The UK's document on the implementation of the Northern Ireland protocol was generally seen as a positive step forward in recognising checks would be needed on goods entering the province from Great Britain, even if the detail was frustratingly absent.
Ultimately we seem to be heading towards a major decision point for the two sides in September or early October. Both sides will have much to think about in adopting their negotiating positions and confirming these with key stakeholders ahead of this time.
It is often thought that the EU has less to lose from failure to conclude a trade deal than the UK, but there would be an economic hit. The UK is the EU27's second-largest external trading partner after the US, and losses can be expected in areas like automotive and agriculture as a result of no-deal. Access to UK fishing waters is important for some coastal Member States, and the issue of access to UK financial services markets will remain given their current dominance. Implementation of the Northern Ireland protocol will be considerably easier with a deal.
The EU's draft text contains ambitious provisions on level playing field commitments in areas like environment, labour and in particular state aid, which could potentially be eased for a deal, though state aid is a particular concern given the clear suggestion that some key figures in the UK government wish to use that aggressively in the future. Similarly, the EU could be more generous with mutual recognition of conformity assessment. However, it seems unlikely that there could be more dramatic changes in the EU's overall position, given the power of precedent and the pressure from Member States generally to be tougher on conditionality for preferential access to the single market.
The UK position is often seen as more flexible, in that many objections seem to be more about posture for domestic audiences. The desire to be treated as 'sovereign equals' can be seen in this light. If anything the UK faces a problem of immature policy positions, such as demands for regulatory independence which if taken literally would mean leaving the WTO, and therefore cannot be taken in that way. The advantage is that the possible EU concessions might be enough for the UK to claim victory and sign a deal, but equally no conceivable concessions could ever be enough.
Ultimately the UK's decision will, therefore, be one for the Prime Minister, on whether it is better to have a deal and claim victory, or not to have a deal and still claim victory. There are numerous risks economically from no-deal, including the future of the UK car industry, food exports, and the UK's services sector. UK business already reeling for the COVID-19 pandemic already expect further costs and disruption, and international investors are increasingly wary. It is more likely however that the government will focus on the messaging, thus thinking whether poor economic performance or factories closing will be blamed on no-deal or coronavirus.
The absence of a deal will also make many essential areas of future cooperation more difficult, from customs clearance to visas and security issues. The future of relationships between the EU and UK Crown Dependencies and Overseas Territories such as Jersey and Gibraltar will also become more difficult, as will the UK's relationships with countries closely associated with the EU trading regime such as Norway and Turkey. On the other hand, no deal will allow for a clearer UK government message, that this is all the fault of the EU. Instinctively the Prime Minister is not antagonistic towards the EU but is surrounded by those whose loathing for it is often little disguised.
This also points us towards the raw and unresolved emotions of UK-EU talks. Like most divorces, both sides claim four months on to be completely over the other, and it isn't true. There are genuine fears on both sides. There are some in the EU who want Brexit to fail and/or to tie the UK to the EU's regulatory orbit. There are senior figures in the UK who do actively wish the EU to break-up, and regard making that happen as more important than any UK policy agenda. It sometimes feels like therapists and relationship counsellors might be more useful at this time than trade negotiators.
On this analogy, the UK is also having trouble with dating others. Talks with the US have started and already predictably seen a major argument developing over the future of UK farming. There are reasonable questions as to whether the deal would offer UK companies any new opportunities or can be completed before the expiry of US Trade Promotion Authority at the end of June 2021 given a Presidential election in the middle. The program to replicate existing EU trade agreements has gone well with smaller countries, but larger ones like Canada and Japan have so far not signed, and South Korea only did on condition of new talks starting within two years. The UK could start 2021 with no EU or US trade deal.
In another recent development, the UK announced new applied MFN tariffs to apply from January 1, liberalising slightly against those inherited from the EU but leaving more room for negotiations than a previous plan to remove nearly all. In the event of a deal with the EU, these new tariffs will be fine, but questions have been raised as to whether they would be suitable in a no-deal scenario. In particular agriculture tariffs and quotas would seem to risk a supply shock and may need to be adjusted further.
The Brexit saga seems to have been going on for far too long, and many in the EU have reasonably lost interest. Even in the UK the conversation notably attracts less interest. Yet this is a major trading relationship which will be affected for years to come by decisions made this year. The cliffhanger ending to this series seems likely to be the point just before the Prime Minister reveals his decision. There are plenty of clues as to what happens next but as yet no certainty.