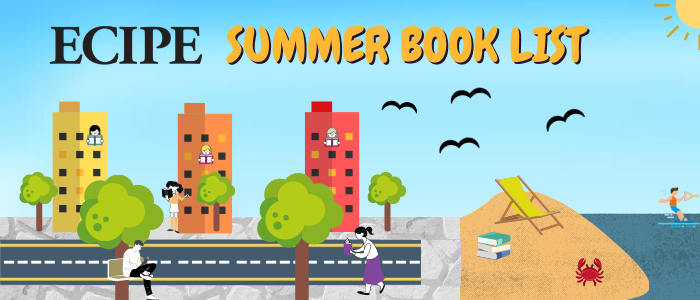 We asked ECIPE experts to help compile a list of books to read over the summer. The goal was to recommend literature that helps readers make sense of the troubled times we are living in right now, understand the challenges ahead, and inspire a better-prepared and more resilient society.
These are the recommendations:

---
by Anu Bradford (2020)
Regulations are an essential part of trade, yet one that is insufficiently understood and somewhat under-researched. The Brussels Effect by Anu Bradford is an important contribution to filling those gaps, in explaining why EU rules have become globally important, and perhaps as importantly, why US ones have not. We need to consider these findings when thinking about the future of the global trading system, and countries like the UK need to think about how it affects our trade policy.
You can listen to Fredrik Erixon and Anu Bradford talk about the Brussels effect on this episode of the Global Economy Podcast.

---
by John Kay & Mervyn King (2020)
Radical Uncertainty by Mervyn King and John Kay, shows two economists that in their career have learnt to practice humility as an important method to conquer uncertainty. Reading through the pandemic, this book highlights that we should value epistemology more, not only epidemiology. In economic policymaking, there is so much we don't know and cannot really predict. All too often, we hide behind models and forget to ask the basic question: what's going on here?

---
by Matt Ridley (2020)
Matt Ridley's new book, How Innovation Works, is another book that enlightens and entertains at the same time. Innovation is the lifeblood of economic growth, but it's been grossly neglected in economic and social thought. Ridley brings to life how many important innovations actually come about – in medicine, transport, and more – and he shows how policies to promote innovation often fail to reach the desired results because they start from a mechanistic view of how innovation happens.
You can listen to Fredrik Erixon and Matt Ridley talk about how innovation thrives on this episode of the Global Economy Podcast.

---
by Nassim Nicholas Taleb (2014)
Random shocks are random. We can't predict them but we can think about them. Antifragile by Nassim Nicholas Taleb is one of these books that help you to think about the unexpected. The book has many insights and provides good examples from philosophy, medicine, engineering, and history. A lesson from the book which is particularly pertinent for trade policy at this moment is that decentralised, open and organic systems – where multiple businesses join and leave the market – are more resilient to shocks than top-down systems made of fewer firms. The book might not be the easiest book to read at the beach during your holidays, but if you do, you will find that it was worth the effort.

---
in the New York Times Magazine
Inspired by Giovanni Boccaccio's Decameron, the New York Times enlisted 29 authors from all over the world to write short fictional stories inspired by the COVID-19 pandemic – written while the pandemic was at its highest. The result is the Decameron Project, a varied collection of very creative stories that reflect on the surreal moment we are living in, written by authors like David Mitchell, Margaret Atwood, Colm Tóibín and Leila Slimani. The tales written by Mia Couto's (An Obliging Robber) and Charles Yu's (Systems) are particularly good introductions to the collection.